Are You Ready To Master Your Dating Life And Finally Get The Women You Deserve?
My name's Dean and on this page you're going to learn how to handle your dating life, once and for all.
I'm going to reveal an unusual breakthrough that lets you crawl inside any girl's mind, take control of her emotions and implant feelings of lust and uncontrollable desire.
This closely-guarded method works for young guys…
Older guys…
And it works on younger women and older women.
The best part is, it basically requires zero effort on your end and it's stealth.
100% undetectable.
So just keep watching and I'll show how to easily get into any woman's heart…
And even get her addicted to you…
Simply by using the right "magic words."
Words that are GUARANTEED to tap into the "romance center" of her brain and make her crave you.
I want you to pay close attention, because in the next few minutes you're going to learn a lot about "magic words" and how to skip the usual "small talk" and ignite her attraction…
You can use these magic words to approach any girl, anywhere, and create an instant connection with her…
Or, use them on the hot stuck-up chicks who usually ignore guys like you and me…and hook up with them just for fun…
These magic words can even instantly turn your "female friend" into your lover…
They can also make your ex-girlfriend…or any girl you once dated…suddenly realize YOU are the man she should be with.
She'll suddenly need you again and desperately want to be with you, even if she's dating some other guy.
And if you want to get a smoking hot brand-new girlfriend (the kind who makes your friends drool with envy), that's easy, too…
Just use the simple phrases I'm going to give you to flip the "attraction switch" deep inside her subconscious brain.
These tactics are drop-dead easy to learn, and they work no matter what you look like…
No matter if you're worried about rejection or embarrassment…
No matter if you think hot girls are "out of your league."
Because once I show you how I "cracked the code…"
How I figured out a strange "loophole" in the female mind, and how to flip any woman's sexual attraction switch just by talking to her in a certain way…
You're going to want to kick yourself for not learning this stuff years ago.
I want to teach you a simple, rejection-proof way to get women…
To get them turned on and wanting you…
In only seconds.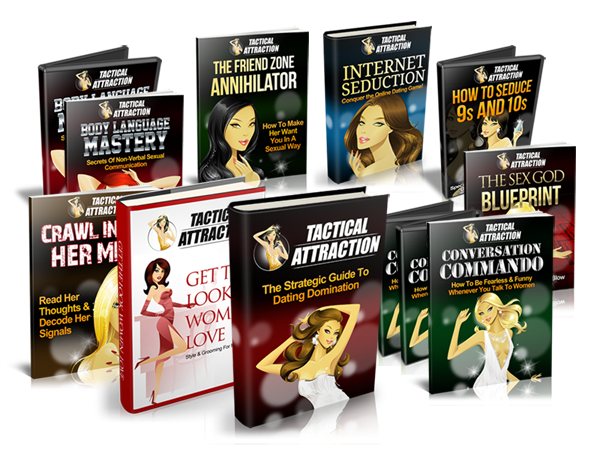 It's called
The Tactical Attraction System.
So why's it called "Tactical" Attraction?
Because the guy who taught me how to become awesome with women is just like the Negotiators you've seen in the movies…
Y'know, when a bunch of bank robbers with machine guns are holed up inside a bank with hostages…
Or some guy is standing on the roof of a building, and he's threatening to jump and splatter himself all over the sidewalk…
They call in a Negotiator and it's his job to get on the line with them… talk to them… and crawl inside their mind.
Hostage Negotiators are the most skilled, effective communicators in the world.
They know the specific words to say, and the questions to ask, to push the right "emotional buttons" in the human brain…
To control a person's state of mind, to relax them, bond with them, make them feel trust…
And get them to COMPLY.
Imagine if you had this same power with women?
Well, I'm going to tell you how a Hostage Negotiator became my own personal wingman…
How I tapped his brain, studied his techniques, and figured out how to apply them to seducing women…
And I'll reveal how you can apply these same, easy verbal tactics to install uncontrollable feelings of lust and desire into her subconscious mind.
These tactics will give you an unfair advantage over all the other guys…
Because you'll know an easy, step-by-step "blueprint" that gives you the exact words to say to women to hook their interest…
Grip their attention…
And get them to feel unusually attracted to you… even if you're not the kind of guy they normally "go for."
It's like having the key to unlock any woman's fun, flirtatious side.
Without any risk of her blowing you off…
Without you struggling to figure out what to say next…
And without you having to manipulate women, lie to them, or use creepy "tricks."
You'll learn, step-by-step, how to apply the tactics and flip the right "switches" in any woman's brain…
Including the ultimate "attraction switch…"
Which is FUN.
I can promise that when you approach a girl and start talking to her, as long as she's having FUN with the conversation, she's going to want to keep spending time with you…
(Flip this switch, and you can even make a group of hot girls start COMPETING for your attention!)
Then, by using a few simple but incredibly powerful Negotiator techniques, you'll control the flow and crank up the fun…
You'll have girls smiling, laughing, even flirting with you like crazy… all because you keep pushing the right buttons…
Like this button… you "blame the flirtation on her."
You make it sound like she's obviously "into you"… and it's all her fault that the conversation is getting flirty…
You can say, "Y'know, I came out tonight to just have a couple of beer with my friends, and then you come along and force me to start flirting with you. It's all your fault for wearing that dress…"
Or "You're making me think such naughty thoughts. Do you have voodoo powers or something? I'm trying to concentrate on what you're saying, but you're making it really difficult…"
Here's another: "Stop looking at me that way, would you? You're going to force me to turn on the charm and totally seduce you."
I like this one: "You're such a bad girl, obviously your boyfriend doesn't spank you enough. He better not be around because you're making me want to totally start flirting with you."
One more: "I wish you hadn't worn that outfit… I promised myself I'd be celibate for the next 30 days and you're making me have naughty thoughts. If I end up breaking my vows it's all your fault."
So I've given you a few examples of magic words…
But I also want to teach you the words to say when you approach a girl and start a conversation…
And the words that spike her attraction (learn these, and you'll never have to make boring "small talk" with a woman again)…
And then, the words that automatically make her give you her phone number…
Make her want to go out with you…
And the words that make women actually CHASE you and compete for you.
Look, with the Tactical Attraction system, I've done all the hard work for you.
Just go through the material and you'll be set. No complicated exercises, no long routines to memorize, nothing to practice.
These tactics will be hard-wired into your brain.
This easy-to-learn course has taught thousands of guys around the world… guys just like you… how to take charge of your dating life and get more girls and hotter girls.
Now it's time for you to take action, knowing that you're risking nothing and getting instant access to the most powerful system ever created for getting more girls… getting hotter girls…
Or meeting you dream girlfriend, if that's what you want to do right now…
So click the shiny button that says "Add To Cart," and let's get started. You will get the entire Tactical Attraction system for only $47.
Note: Your billing statement will show a charge from CLICKBANK or Clk*Bank.com.
You are covered by a 60-Day Money Back Guarantee. This means you have a full 60 days to try it out, and if you don't like it for any reason, just send us an email (to support@tacticalattraction.com) anytime over the next 60 days and we will refund your money in full.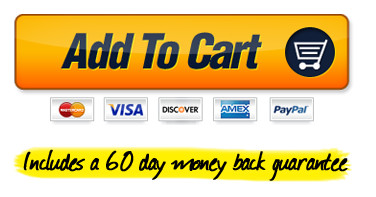 Yes! Let Me Try The Tactical Attraction System For $47